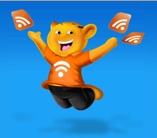 AideRSS is a service I've wanted to make creative use of for some time. It's neat – you supply an RSS feed and it ranks posts in that feed in order of reader engagement. The company is Canadian, too, and Canadian internet stuff is totally hot.
AideRSS scores each post by the number of comments it received, number of times it's been tagged in del.icio.us, inbound links from a number of blogsearch engines, etc. Thankfully, it scores those posts relative only to other posts in the same feed. So while a post on TechCrunch with 20 comments might score a 5 out of 10, for example, a post on Marshallk.com with 20 comments would score a 10 out of 10! Unfortunately, and this is a big dissapointment, AideRSS is just plain wrong far too often – reporting, for example, completely inacurate numbers for several posts in my feed. Come on AideRSS team, fix these problems. So it's nothing to bet the bank on, but there's some real potential here and as a rough guide it could still be useful today. I've contacted AideRSS to ask why they are getting things wrong as often as they are.
That's all well and good, it's a good way to see which of your posts are getting the most reader engagement (at least via these gestures being measured) and the widget that AideRSS provides is a neat way to highlight your most popular posts – but I know there's a lot more that's possible here.
Tonight I tried something unusual, at least it seemed that way to me. I plugged the RSS feed for items I've tagged "toread" in del.cio.us into AideRSS. It worked! It appears that the service figured out which were the hottest items in my feed. What a handy way to prioritize! I could grab scored RSS feed from AideRSS, including "good posts", great posts or only the best posts. Here's a widget displaying the best posts currently in my "toread" feed, according to AideRSS.


Isn't that cool? Obviously it would be nice if users could define the number of characters and items displayed in that widget and the metrics used don't capture anything personalized – but nonetheless, I think there's some real potential here. (The numbers fetched aren't always accurate, either – hopefully that will improve.)
Here's an idea I thought of previously: say you're looking to identify some of the top blogs in real estate. (Woo hoo!?) I would recommend starting at http://technorati.com/blogs/real_estate and sorting from authority. There's an export in OPML link there, which unfortunately will not give you anything other than the top 10 blogs in that category no matter what you try to do, but you can import that OPML into AideRSS. You can then see the hottest posts in each blog, in other words: you can get a feel for what that blog's community of readers takes interest in. So Technorati+AideRSS = easy identification of the biggest interests of top niche bloggers' reading communities. Sounds invaluable to me.
These are the kinds of ideas I help come up with and implement with my consulting clients; though we wouldn't want to depend too much on a tool that's as loosely accurate as AideRSS is today.
If this general idea is of interest to you, perhaps more for personal use than marketing purposes, see also Rogers Cadenhead's recent post on APML – Attention Profiling Markup Language. I tagged it in my blog and shared items feed, which you might like to subscribe to.
Thanks for reading.