I'm going to see a lot of friends over the next week in Austin that I'd like to catch up with, but imagine if we got the small talk taken care of ahead of time and could start our brief conversations from a different place. Scott Beale, Violet Blue, Rachel Weidinger, I'm picturing you in my mind.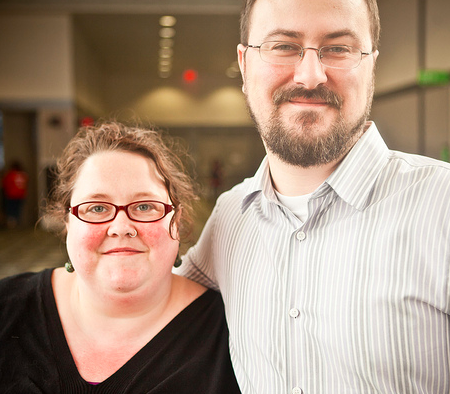 It's in that spirit that I offer below 7 quick bullet points summarizing the most relevant parts of the last year of my work life and what I'm doing at SXSW this year. My personal life is mostly another matter, but know that my health is pretty good and my wife Mikalina and I are very much in love. Above: two of the many facial expressions available from Mikalina and I at SXSW, in this case in 2012. Photo by classic SX' photographer Kris Krug.
I would love it if you'd return the favor and post some updates from the last year of your life in comments below or email me a note at marshall@getlittlebird.com if you want, I'll read it on the plane! Imagine what we'll be able to talk about together in Austin once we've got a common foundation of knowing the basics!
* This past year, I left ReadWriteWeb after starting a company called Plexus Engine, which has since changed its name to Little Bird. It's a suite of tools that helps you find and engage with the leading minds online in any topic. It's awesome & unlike anything else on the market. I'd love to show it to you sometime, but probably right now because we're drinking beer on a crowded patio. (Just pretend!) The company was co-founded by my wife Mikalina Kirkpatrick and our technical co-founder Tyler Gillies.
* Little Bird closed a $1m round of funding, lead by Mark Cuban. We're still in private beta but have sold subscription access to the service to a bunch of companies (mostly marketing, advertising & PR) we have 7 full time team members so far and are opening to General Availability this Spring.
* At SXSW we'll be unveiling the first app built on top of our API. I guarantee you'll hear about it because we have a massive promotional partner. I'll be posting about it here and elsewhere tomorrow morning.
* I am having an incredible time being a startup CEO. Sometimes I miss tech blogging, but not very often and not that much – because I'm having too much fun having new adventures.
* Our biggest challenge at Little Bird is building the capacity to convert inbound interest into paying customers – right now my #1 priority is hiring more sales people.
* Here at SXSW I am not speaking on any official panels, but my very smart wife Mikalina is speaking at a Sunday AM workshop titled
Startup Operations: The Lone Ranger of Tech. Also attending the event are our hard working marketing and sales guy Nate Angel and one of our data hackers, the fabulous Devin Gafney.
* The technology that's changed my life the most over the past year, other than our own and its ability to bring the world's finest knowledge on any subject to me with the snap of my fingers, is the iOS mobile app Lift. It's a daily habit check-in app, with social and analytics features. I have never been a person with a structured or goal oriented life before, but I've been trying it via Lift and I'm happy to say that I am now a guy who does pushups, flosses, thinks about my own mortality and drinks more water as often as I could have ever imagined myself doing those things. Check it out!
That's what I've been doing, now you know! How about you? Imagine if a bunch of us wrote out bullet points like this, we could start conversation all the further ahead of the basics. Feel free to let me know what you've been up to since the last SXSW in comments below.