I find robots really interesting, in theory. I think of the network analysis and news research technology we're building as a team of robots.
But this news that robots have begun attending human musical performances is really interesting.
This from the Intel/Vice collaboration The Creators Project
Damon Albarn, the Blur and Gorillaz frontman, released his first solo album Everyday Robots this April. Fittingly, two special guests were in the audience for a small performance yesterday at Japan's National Museum of Emerging Science and Innovation (Miraikan). Included in the crowd of fifty were two androids: Otonaroid®, a life-like female, and Telenoid®, a more abstract human form. Both sat front row and waited for Albarn to take the stage as a thunderstorm raged outside.
Below: two different robots listen to the music. Hey you with no arms and legs and a blank stare, down in front!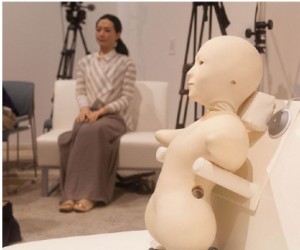 Here's the comment I posted there. I'd love to know what sorts of thoughts all this brings to your mind. What do you think about robots attending arts events?
It's interesting to ask why a robot would attend an arts performance. I know at least some of Intel's robotics program is very focused on customizable, teachable robots as human servants. What would that look like in the arts?

Will there be a backlash where protesters block robots from entering the ballet, lest they learn the soft things that make humanity special and become more capable of taking control? Or will the robots augment our own ability to appreciate art, like the technology you see on TV during sporting events? If one dance routine has parallels with a previous one in history, would you like to see that highlighted before, after or during the event?

I've been watching videos about IBM's Watson this morning and can't help but think about these robots leveraging computer vision, natural language processing and ultimately quantum computing – processing data billions of times faster than computers can today. What does a robot like that bring to a musical performance? Will we be challenged to pay attention to the artists instead of the fantastic robots in the audience, much as our attention is so often held by our phones today?