2 Comments

03.28.06

Check it out, this is great. Not the be-all end all list, but pretty cool. Funny omissions: upcoming.org not in events. Podshow not in podcasts. NetSquared not in philanthropy, ouch – maybe next year. See any others? I love that Blummy was a winner! I use it all the time.
This is a great peek into the field. Quite a few I've never seen before. The company that came up with this site, SEOMoz, is brilliant. I found it via Digg.
---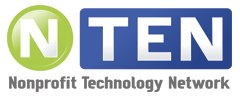 I want to make sure you know about NTEN - the Nonprofit Technology Network.

NTEN helps nonprofits learn to use the web effectively.