Everyone talks about startups innovating but some big businesses are doing really interesting work, they're doing it at scale and they're doing it in ways that reflect changes that could be unfolding in society at large. When those changes are about collaboration, learning and freedom – I get excited.
I'm in here at the Constellation Connected Enterprise 2013 conference in Half Moon Bay and I am really impressed. Upstart analyst firm Constellation Research has put on an inspiring event about the future of work, about the most innovative work being done in big businesses and about the impacts of technology on the human experience. And enterprise software. It's awesome.
I'll be demoing Little Bird on Thursday afternoon at 3:00 and I'm honored to have been invited.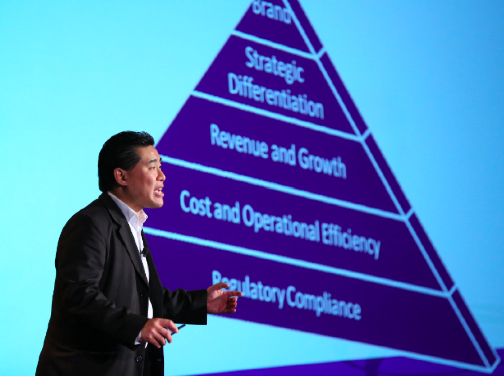 Above: Constellation's Ray Wang, photo by Michael O'Donnell

A few highlights from my notes:
Constellation's Ray Wang is not only the most-connected man in enterprise software, according to our data, and a really interesting, smart guy – he's also an incredible bundle of energy. An inspiration. Puts on one hell of a show.
The world's leading expert on gamification, Jane McGonigal, was the first keynoter and she nearly brought me to tears. Her talk was incredible. Google around for more from her; you could probably spend all your time just following in her digital trail and learning a lot. She spoke about games and engagement in work. "There are now at least 1 billion people worldwide that spend 1 hour + per day playing video games," McGonigal pointed out. 71% of workers are not engaged. The longer you stay in school, the less engaging and hopeful it is. Games are the antidote, she said, because they evoke lots of positive emotions and build resilience. "The opposite of play isn't work – it's depression," she said.
The conference has a branded mobile app from Double Dutch, it's really good. It's a social network just for the event, with check-ins and activity feeds and a leader board. All of the interactions people have with it are measured and served up to conference organizers as data about who to invite back next year – not just among panelists but it determines who in the audience is most influential, too. Do people use it? Here they sure are. I asked in a thread in the app and founder Lawrence Coburn told me that the average user of one of their event apps makes more than 800 measured gestures per event. Whoa!
The Constellation Super Nova awards for successful enterprise software implementations were really interesting. For example, I learned that Mercedes Benz uses SAP's new realtime collaboration platform HANA to deliver auto manufacturing QA data directly to engineers. Kelly Blue Book's Karen Simmons said when accepting her Supernova Award: "My team is not the data warehouse; we are the *business*!" Cool.
If you're here, I'll see you tomorrow. If you're not – I recommend it next year.