0 Comments

10.17.17

These are my thoughts, short summaries of different ways I've been talking about the use of social media with the companies I've been meeting with, articulated in some specific facets. perhaps they'll inspire thoughts about your relationship to social media, personally and for business. Click to view full size. I'm writing on paper now my personal answers to each "what could you do" question. It's feeling good.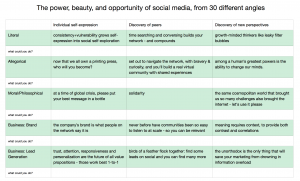 ---
HEY: Carbon is a heat trapping gas. We are pumping huge amounts of carbon into the air. It's really dangerous.
Fortunately there's a solution available:
Soil carbon sequestration!
Check it out!