Microsoft and AMD sent out a pile of very expensive (yet trashy looking) laptops to a number of bloggers over the past week. We were told we could keep them – now after a day of minor outrage by some people they are emailing us back with the following request that we not keep them after all! And to think, I almost smashed mine in the middle of the street 10 minutes into trying to use it! I did figure out some of the basics after awhile, but it's still nothing life changing. Ok, so obviously I'm being a bit snotty here and am in a position of ridiculous privilege to get one of these things for free – I just don't think it's anything to get your knickers in a twist about given the state of the world.
My point is: the PR backpedal here is just silly. The original email read" "you are welcome to send the machine back to us after you are done playing with it, or you can give it away to your community, or you can hold onto it for as long as you'd like." Now this follow up:
Marshall,

No good deed goes unpunished, right? You may have seen that other bloggers got review machines as well. Some of that coverage was not factual. As you write your review I just wanted to emphasize that this is a review pc. I strongly recommend you disclose that we sent you this machine for review, and I hope you give your honest opinions. Just to make sure there is no misunderstanding of our intentions I'm going to ask that you either give the pc away or send it back when you no longer need it for product reviews.

Thanks for your understanding, and happy reviewing,

Aaron ***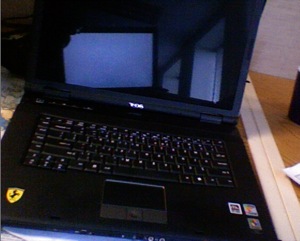 Ha ha ha – the snazzy laptop I got in the mail from Microsoft yesterday was the only way I was ever going to use Vista anyway. And I'm certainly never going to take a laptop with a stupid looking Ferrari logo on the front anywhere but home and my cube at work.
The computer itself doesn't retail for $2k plus for nothing – it's fast. Windows is so annoying and (to me, a Mac user) so counter-intuitive, that I'd never buy a Windows machine. My partner won't touch the thing. I'm going to set it up to look pretty, take incoming news as if it was the 2nd half of a super large monitor and work on my Mac. Not that I'm super happy with the crash-happy, Flash-hating Macbook I have either. (That said, Parallels is a great program for testing Windows only applications.) See also oops – no new podcasts caught by iTunes for a week.
Ultimately all these companies are probably a lot like cell phone providers. Which is the least ugly one in the room? I wouldn't chose at all if I didn't have to.
I can't believe they are telling me not to keep it now. What kind of blogosphere reaction were they expecting?