0 Comments

01.29.07

I'm flying to Palm Desert, CA for DEMO in the morning and then shapow – we'll all be syndicatable via SplashCast. It'll be great, you'll love it. If you're a blogger who's interested in writing a review drop me a line and I'll send you our bloggers press pack under embargo.
Update: We're live, here's the announcement. Much thanks to everyone for all your support; I hope SplashCast will become an important tool in your online communication.
---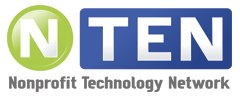 I want to make sure you know about NTEN - the Nonprofit Technology Network.

NTEN helps nonprofits learn to use the web effectively.