I'm in San Francisco this week with several members of the Little Bird team, one of whom is particularly interested in Uber – as I am, as well. In order to efficiently learn more about the company, I suggested that we run a Little Bird report on the Uber Community, map out the most influential members of that community online and see what they are talking about.
(Below: the sub-communities of Uber influencers on Twitter form clusters around official accounts, investor and stakeholder accounts, marketing communities that admire Uber and dedicated Uber-haters.  Those haters are the pink cluster in the bottom right.)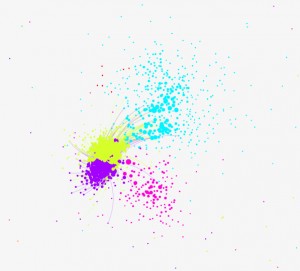 I ran this report and thought that instead of just sending the hottest links to my co-worker in an email, I would work out loud and post them publicly for others to see as well.  I've got the report set up and bookmarked, and Uber is a really interesting company, so I'll likely visit it often for the day or week's hottest links.
Here they are:
The Uberpreneur: How An Uber Driver Makes $252,000 A Year http://t.co/2eCbyjr0w9 @forbes @travisk @emilmichael @gmc @davidplouffe

— Shervin Pishevar (@shervin) February 4, 2015
Take a bite out of the dining action this week with us and @infatuationCHI. WIN free rides & a dinner date: http://t.co/xQv0cw0GS4 #EEEEEATS — Uber Chicago (@Uber_CHI) February 4, 2015
A stunning example of tech hagiography. http://t.co/CtLEYOGJsP pic.twitter.com/pL5AL1x1KQ — Mara Zepeda (@marazepeda) February 5, 2015
(The above is my friend Mara's tweet about this link that's super hot.)
Did you know, you can send a real-time map of any Uber ride? Just tap 'Share my ETA' http://t.co/seM1f3RbKM pic.twitter.com/H9cqOhFJBa

— Uber London (@Uber_LDN) February 4, 2015
#UberKITTENS is headed Down Under! Today across Australia, request your cuddle for a cause: http://t.co/wO6rLofuw8 pic.twitter.com/qd5bkCYcTM

— Uber (@Uber) February 4, 2015
We have our finalists! Check out the top 4 things to happen in an uberPOOL: http://t.co/KrjrcymQIP pic.twitter.com/4Xs6ODO813 — Uber San Francisco (@Uber_SF) February 4, 2015
We've taken Uber to the enterprise level with #U4B. From startups to suits, ride with ease at http://t.co/IA9VDvRp3W pic.twitter.com/UDpyvVeLjQ — Uber Toronto (@Uber_TOR) February 4, 2015
@christiewalsh Sorry we missed this, Christine! We're constantly working to expand our uberFAMILY offering. Details: http://t.co/84d49Ahg6A

— Uber NYC (@Uber_NYC) February 5, 2015