People come to my site every day to find out how to find good blogs on a topic of interest – and I just noticed that this article about it was written more than 5 years ago! It's time I update it.
Five years later – only a handful of these methods below still work! It's something I've needed to do a lot since then, though, so I've actually built a technology myself that I offer to my consulting clients and others. Update: Check out my startup Little Bird if you have a business need to find the top blogs in a field.
Presuming you've just got a casual need, though. Here's what I suggested 5 years ago, now updated with some notes.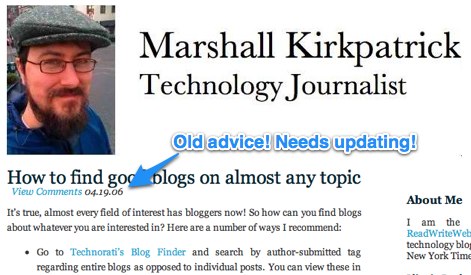 It's true, almost every field of interest has bloggers now! So how can you find blogs about whatever you are interested in? Here are a number of ways I recommend:
Well, there's a few tips. Hope they are useful.
Another method I like: Take blogs you have found that you like, copy their URLs and paste them into a Google search. One of the links on the results page should be Similar. Like this. Give that a try.
If you're doing this for work though (and you should, reading top blogs and finding industry leaders on Twitter can lend you a huge information advantage) then send me an email. I've been finding the best blogs for people for years on a variety of topics and can do a better job, faster and cheaper than just about any other method you're likely to find.