5 Comments

01.25.14

Stepper coaches professionals on identifying key relationships they want to build, then developing new habits of offering whatever contributions they discover they can make to those key people and doing all of it publicly. That's the TL;DR summary of this post, see the links below and please forgive me for such a long rambly bit of writing. I'm trying to get back in the habit a little but didn't have the time to write something shorter.
This morning I was reading my Top Kanban Lovers Twitter list on my phone (exported from a Little Bird report on Kanban) and came across John Stepper's week-old post Deepening relationships through contribution. (Good thing he re-shared an excerpt from it again a week later, something perhaps more of us would be wise to do.)
It was my first introduction to John, who describes his job as working "to change how people work at Deutsche Bank, using collaboration platforms, communities of practice, and public social media channels." Awesome! I went on to read his posts on "Working out loud": Your personal content strategy and Working Out Loud: the 12-week program, all of which I'd recommend highly enough that I'm blogging about them now when I should probably be cleaning my house before a brunch we're hosting tomorrow morning.
(more…)
---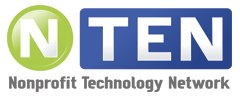 I want to make sure you know about NTEN - the Nonprofit Technology Network.

NTEN helps nonprofits learn to use the web effectively.