I've long been impressed with the rich-media popup tool Apture. If you're actually on my site and not reading this in a feed reader, you can see the little book icon in the previous sentence. Hover over it and you'll see a Wikipedia entry I selected to appear here. It was really easy to do using the Apture plug-in for WordPress.
Last week semantic web company Zemanta released a very similar but open source program called Balloons. I'm going to try to install that next here and compare the two services. Alex Iskold got me thinking about it. (Oh wow, look at that double LinkedIn and Twitter pop-up – that is awesome! I hate reading peoples' names online and not being able to see where they work. This is great.)
So far Apture is pretty impressive. I did the wrong thing with it a couple of times, but I think I've got it down now. This post will evolve as I find the time to try out Zemanta.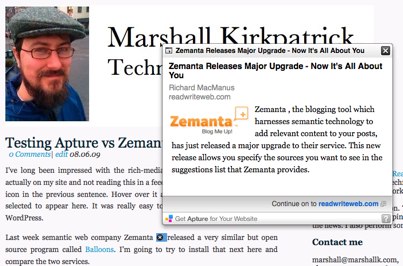 Ok, Zemanta plug-in now installed. The company says the Balloons feature is automatically included. Let's see.
Update: You can't really use both at the same time on the same blog – Apture hijacks all of Zemanta's balloon links. You probably won't be able to see Zemanta links now, but I'll be posting a full comparative review of the two services tonight or tomorrow on ReadWriteWeb.
Test: Pablo Picasso
Related articles by Zemanta