0 Comments

10.16.05

Ok, so everybody loves bookmarklets – those little links you drag onto your favorites toolbar and click for instant results. There are lots of great ones out there, and I will write someday about my favorites, but I don't want to get distracted. I want to post what I think is one of the single greatest bookmarklets out there right now – and one of the hardest to get. I don't know why the original author of this bookmarklet took their entire website offline and used a robots.txt file to stop its contents from being saved almost anywhere, but here is…
The Technorati Tag Bookmarklet: BlogTags
Update: There has been some real confusion about how to use this bookmarklet. I'm sorry it wasn't more clear. I've called it BlogTags, but you can call it what ever you want. Just hover your mouse over the words BlogTags in the previous sentence, press the mouse button and hold it down, then drag the link up to your toolbar. That's the part of your browser just below the web adress of this page. If you can't see a toolbar, go to View menu and select toolbar or favorites toolbar.
I love it. Drag that puppy up to your favorites toolbar and give it a click (or click on it here just to see what it does.) That code it spits out can by copied and pasted into the end of each blog post you write. I get people visiting my site through Technorati tag searches every day. You can put in the links to tag your blog posts manually, but this bookmarklet is a real time saver. I don't know why Technorati doesn't offer a bookmarklet like this themselves.
If you are unfamiliar with the space where the blogosphere and the tagosphere intersect, try clicking on some of the Technorati Tags at the ends of my posts here. You'll find a whole world of other bloggers writing on the same subject.
See also: following up on the bookmarklet, my next post.
P.S. Curious how I was able to get this if the web site it came from is offline? The moment I first found it, I saved it in my Furl.net archive, which includes a cached copy automatically.
Technorati Tags: Technorati, tagging, tags, bookmarklets, blogging, web2.0, nptech, net2
---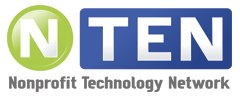 I want to make sure you know about NTEN - the Nonprofit Technology Network.

NTEN helps nonprofits learn to use the web effectively.