Update: I have to update this post in July of 2009. Today I get the keys to the first house my wife and I have ever bought! No more paying rent, thanks twitter!
This weekend will mark one month that I've been writing over at Read/WriteWeb and doing consulting. In my previous stints as an online news writer (which I missed very much) I was often able to break news faster than my tech blogging competitors primarily through some advanced use of RSS feeds, which I wrote about here. I'm still doing that in this job, but there's a new tool that's making a huge impact on my reporting – Twitter!
I'm @marshallk on Twitter if you'd like to connect.
People laugh at Twitter, and they can go ahead and laugh for all I care, but I'm here to tell you that it can be invaluable. Aside from the personal connectedness and relationship maintenance it's good for, let's be honest – it's paying my rent. (Thanks Twitter!) I don't mean they've hired me as a consultant, though I would love that, I mean Twitter is great for news discovery. Read on for my thoughts on how you can use Twitter more effectively, but keep in mind that communication has its own inherent value – I swear that's what I like best about Twitter!

How is it paying my rent though? Earlier this week I was remarking (on Twitter) about how many of my recent story leads came from Twitter. I counted and at that time 5 of my last 11 stories were based on news I learned first from my friends on Twitter. It was amazing.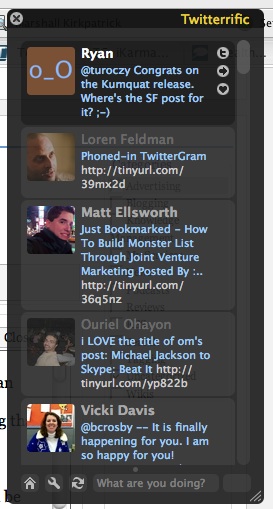 Were those good stories? Was the time and attention I was paying to Twitter worthwhile? Let's put it this way: yesterday was the end of a nice streak for me. I had 6 stories over the previous 7 week days hit the front page of Digg – including several of the stories I found via Twitter. That's pretty remarkable. (If you're curious, and I was, I've now written more than 30 posts that hit the front page of Digg from 4 different blogs in the last 12 months.)
I first learned about the Google acquisition of Jaiku on Twitter. Scores of people blogged about it, but my post was the one that hit Digg. It included quotes from people on Twitter about the deal, because all day long – that's where the best discussion of the deal was found.
I joined Twitter months ago because I thought it would be a good way to find news. I've found in the meantime that it's a lot more than that. Finally, though, it's been bringing me news. Here's a few tips I share with people interested in getting this kind of value out of Twitter.
Use a platform that lives outside the Twitter web page. If I had to go to Twitter.com every time I wanted to interact with the service – I wouldn't use it very much. Mobile notification of Tweets is only worthwhile when you're at an event and believe that the majority of inbound tweets will be of immediate interest to you. Instead, if you're on a Mac – try Twitterrific and if you use Windows and Firefox, try Twitbin. See comments below from readers for more ideas.
Using those tools will lead to Twitter interrupting you a lot. Pay partial attention to it when you can, Twitteriffic's large user icons allow for quick facial recognition instead of reading every message, for example. Finally, it's a multi-tasker's world (to some degree) and allowing yourself to be interrupted in the right circumstances will give you first mover's advantage. I think that's more true in any job than people sometimes think.
Add friends beyond the people you literally know. Twitter isn't a bad place to make friends at all. Come to my profile page and add some of my friends, look at their pages and add some of their friends (after you see what they Twitter about and can confirm that they are of reasonable interest to you, that is.) If you don't have any friends, Twitter is boring. Once you do, it is not. I'm not sure if the people I know are opening up more about early, bloggable information than they were a few months ago or if I've just got enough friends there now that it scales better and the gems are more frequent.
Accept the trivial as important. "Continuous social intelligence" is the best description I've heard of Twitter. For personal and work reasons, I appreciate getting to know people in the industry better on a personal level.
Interact with people outside of Twitter too. This probably goes without saying, but I like Twittering with people I've met at conferences, I prefer to IM with people instead of trading repeated Direct Messages and sometimes if I see something interesting on Twitter I'll pick up the phone and call someone if I have their number.
These are some of my tips for making good use of Twitter. It's serving me very well in a work capacity. It's also just plain fun to me.
For another, more enterprise oriented discussion of Twitter's value, see James Governor's post If Markets Are Conversations Then Twitter is Money.