Technorati CEO Dave Sifry stepped down yesterday and the news gave cynics another opportunity to talk smack about blog search in general. There are a handful of things I really like about Technorati and I think the company deserves a bit of defense. If Technorati takes a dirt nap, I'll be bummed for a number of reasons. (I've had the phrase "dirt nap" stuck in my head for weeks and am very relieved to have the chance to use it here!)
It's not the full text search of blog posts that Technorati is really good for. Google Blogsearch is faster if you want to know if anyone has beat you to a story and Ask.com has much better spam control as it only indexes feeds that have a certain number of subscribers in Bloglines (hello, Google Reader and Blogsearch teams). Technorati has created a whole bunch of awesome experimental features, some of which worked and some of which didn't. I don't know how many of the people behind much of that innovation are still at the company but I hope things brighten up over there in the future.
What is Technorati good for? First, the Blog Index section of the site is very useful. Go to http://technorati.com/blogs/wtfeveryourelookingfor and you'll find blogs that have been tagged as a whole, not on the level of a single post, by their own authors. Sort by "authority" (shudder) and you'll see the ones with the most inbound links. I was talking to a potential client on the phone last week he asked "are there a lot of real estate blogs?" I knew anecdotally that there were, but quickly visiting http://technorati.com/blogs/real_estate told me there were more than 12,000 in Technorati alone! The Blog Index makes it easy to see which, by one standard, are some of the top blogs in any niche. It's not perfect but it's a good start.
Unfortunately, OPML export of anything more than the first 10 results of these searches isn't possible. That looks to me like broken functionality and as the company slashes staff I have to worry that there's little hope of the best parts of the service being maintained or improved upon.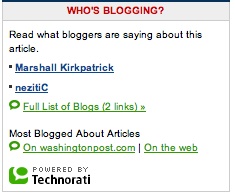 The second cool thing about Technorati is the company's partnerships with outside traditional large publishers. Specifically, the kinds of relationships they've built like the one with the Washington Post. In some sections of the WaPo website, you can see blogs linking to that article displayed in a little box, curtosy of Technorati. If those are sorted a bit for spam and crap then that becomes great stuff. I know that Sphere is providing related functionality on some sites, but it's not the same. The ins and outs of this sort of service deserve a big blog post in and of themselves.
Finally, the Technorati 100 is a good thing. I know there's a whole lot of criticism of it and a lot of that is valid. I don't like the word "authority" and I don't like measuring authority by links – but linking does mean something and the fact that Technorati shows off a leader board of that metric is worthwhile. FeedBurner ought to too, if the group feels like separating out blogs from the other feeds they publish.
I know that Technorati has been painfully slow at times, the most recent site redesign is awful and the focus on inbound links is overdone – but it's an important company that deserves support in my opinion.